Longer, fuller hair with our new, fuss free micro weave service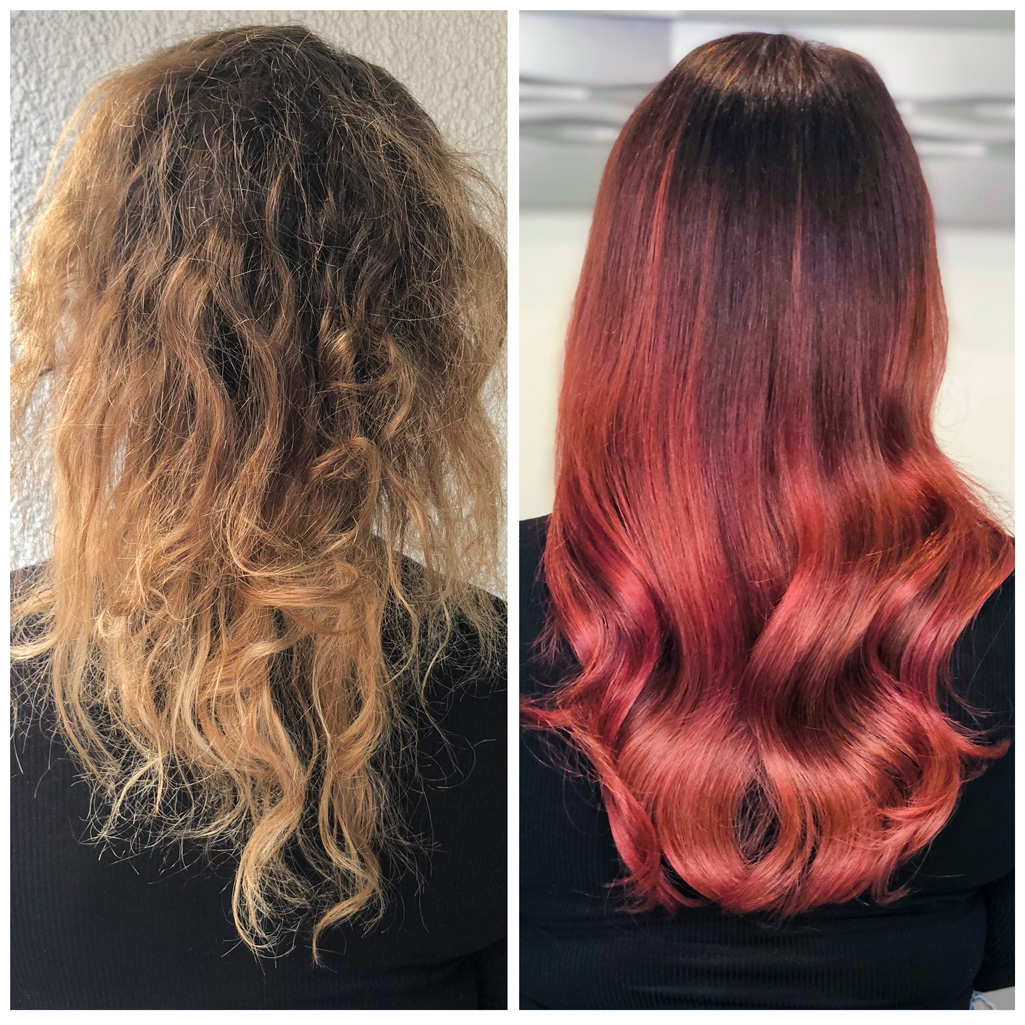 Hair extensions have been a big part of our service portfolio for many years now. Longer, fuller hair isn't always achievable through natural hair growth, and even if it is many people don't have the patience to wait for their hair to grow. Extensions are a great solution and can make a radical difference. It's no wonder they're so popular!
We've adapted our extension offerings over time but the most popular service has always been sewn in wefts. The technique involves sewing weft extensions to fine braids around the perimeter of the head. It's a great method for adding an abundance of hair in a reasonably short amount of time. There are a couple of drawbacks to this system though. The main one is the tightness of a braid can put a lot of tension on the hair, combined with the weight of the weft this can cause damage to the hair follicle. The tension in the braid can be too uncomfortable for some people too, especially the first few days after the application. Another drawback is it takes time for even the fastest braider to put two to three rows of braids in, along with the issue of creating solid ridges around the head that can visibly protrude. It's still remained a popular application technique despite these drawbacks, but we've been crying out for a better method!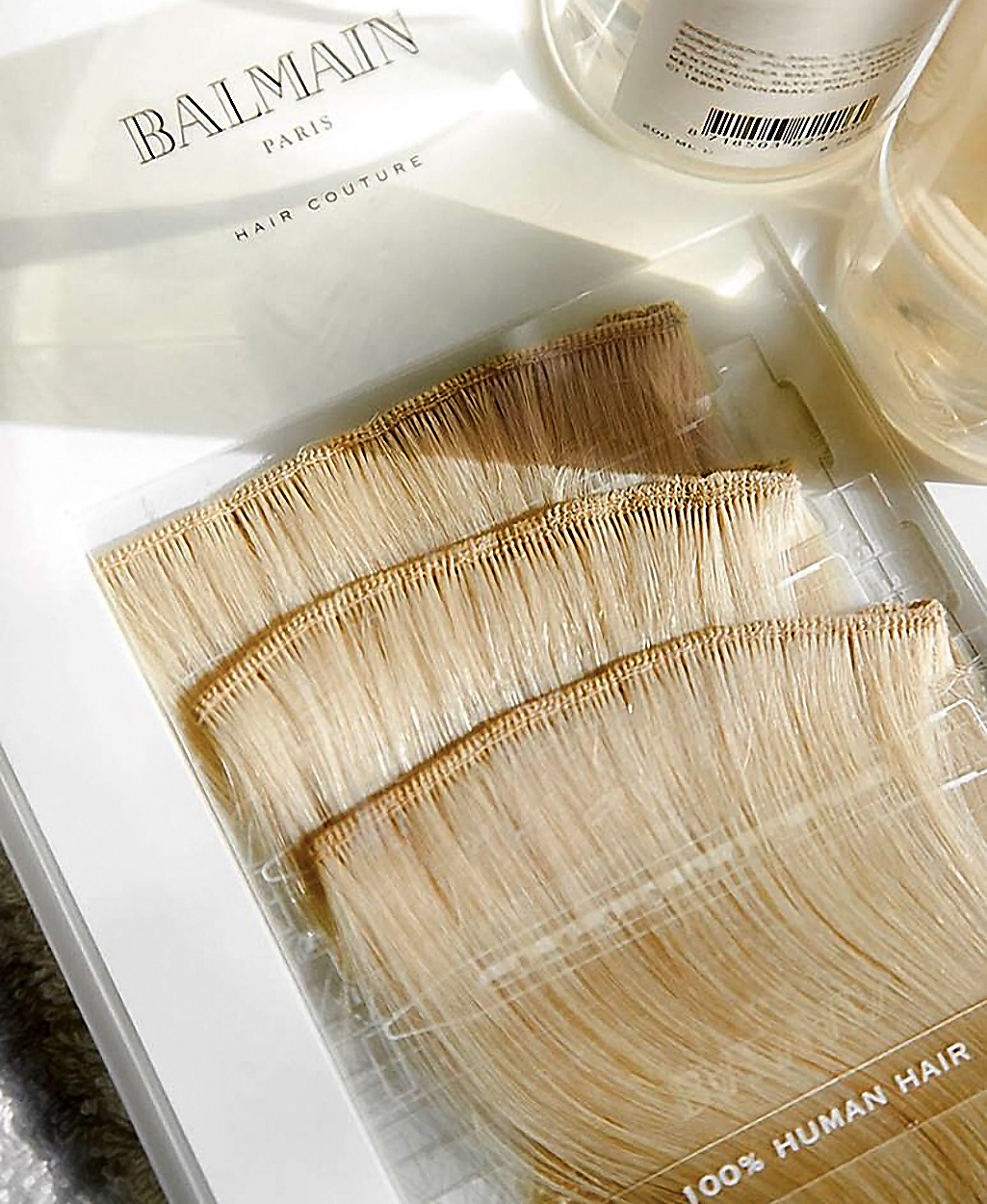 Micro Ring extensions have become very popular in the last few years, a great technique of applying individual pieces of hair by clamping tiny metal rings/beads to the hair. This replaced the glue-in method which was popular in the 90's (but had so many drawbacks and the hot glue wasn't great for the hair as you can imagine! Taking them out was often like trying to remove chewing gum which was never a pleasant experience) We've recently introduced a whole array of Micro Ring extension services which give amazing results! (we'll be covering this in more detail in an upcoming blog) The biggest drawback is it's a very time consuming process with a full head application taking up to 4 hours with a lengthy removal and refit process too. This makes the demand for weft applications still high.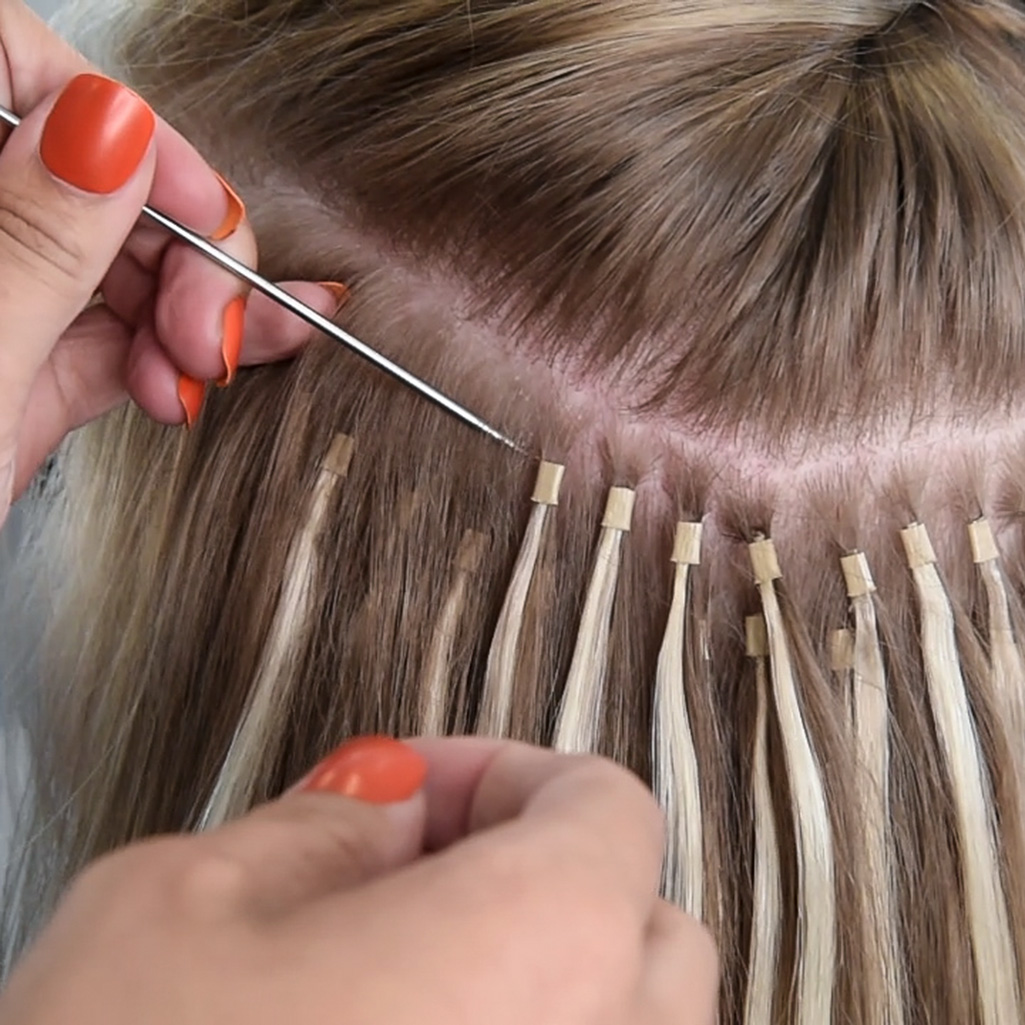 Luckily some clever extension experts experimented with different methods of applying wefts and ultimately devised a method of using a small number of micro rings to act as anchors that the weft can be sewn onto (rather than sewing onto braids) a simple yet very effective solution. It's much faster, less painful, and best of all minimises the tension on your hair follicles. It's far more comfortable the days following the application as the scalp can breath and there is more natural movement to the hair and the weft sits much flusher to the head. An all round winner!
We've recently been working hard at perfecting the technique and now have it down to a fine art. We're ultimately looking at converting all our existing sew-in weft services to this technique as the results are so great! Clients are finding them far more comfortable, easier to manage and blending more naturally into their hair. A full application only takes about an hour and will last around 8 to 10 weeks, after which we can re-apply which makes it a cost effective application.
Click here to see the technique in action on a recent set Natalie and Georgia did. The transformation is incredible! >
If you're wanting thicker, fuller, longer hair and have been looking at extensions as an option then book in for a consultation with one of our specialists. We can determine the best options for you and discuss the hair choices available. We supply Balmain and Beauty Works hair which both offer a whole array of colour and quality choices.
Use our app or give us a call to book your extensions consultation